"NEPTUNE" Field Exploration
29.11.2017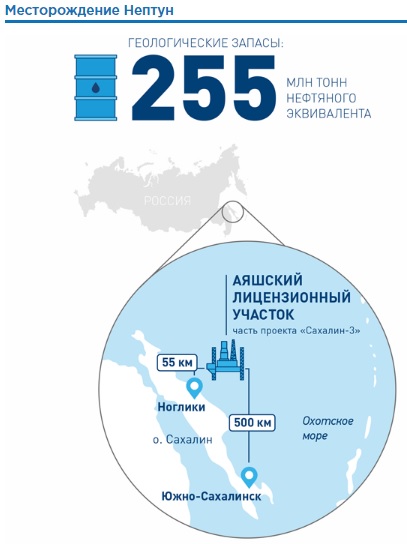 Gazpromneft-Sakhalin finished drilling and testing of prospecting and appraisal well at Ayashskiy Lisence Block in the Okhotsk sea shelf area. Results allow us talking about exploration of a new huge field and about one more Gazpromneft significant shelf project.
The news appeared at the beginning of the October. Exploration well, drilled by Gazpromneft-Sakhalin in the Okhotsk sea shelf area, proved the oil bearing capacity of Ayashskaya structure, license for exploration and development of which the Company got at the beginning of 2017, showed commercial income and gave final confirmation that a new prospective oil field opened in the Russian Far East.
In June 2017, with direct involvement of SVAROG LLP, providing positioning services for installation of drilling platform, drill rig HAKURYU-5 (the name in Japanese means "white dragon") arrived at the destination and continued to construct the first prospecting well at the edge zone of Ayashskaya structure.
When developing the drilling program parameters the actual experience of Okhotsk shelf works and Arctic Fields (operator of which is Gazpromneft) was analyzed. Construction of borehole of depth of 2700 m was finished right in time and without any failureas. 162 running meters of soil were excavated from supposed producing horizons, a great amount of geophysical and hydro-dynamical open hole and cased hole surveys were provided.
Geologic resource of the field, that is named Neptune, is about 255 tons of oil equivalent. According to preliminary estimates extractable resources may reach 70-80 tons, and it means that extraction at the peak is about 5-6 tons per year. However, specialists are going to analyze the whole scope of information, collected during drilling, and draw final conclusions based on this information.